Fence Binding Wire
Fence wire including tie wire or binding wire and other wires needed for buidling a fence system.

Wire Tie is also known as tie wire or binding wire. Small coil wire tie finds most uses in binding of different materials, tying of fences, especially for daily use.
Common wire gauges applied: 16 gauge -17 gauge - 18 gauge
Materials: Mild steel, pvc coated, galvanized steel and stainless steel
Packing: In bundles, coils or spools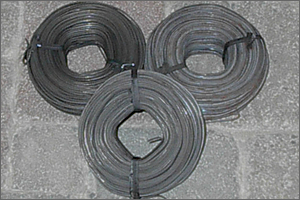 PVC coated fence wire is tie wire made of plastic coated wire. PVC wire has the core wire of electric galvanized wire with plastic coating as outer layer. The PVC coating and the inside wire are firmly combined together offering strengthened protective layer and longer service life.
PVC coated fence wire tic and wire firmly within the core and to combine the surface layer of protective film. With anti-aging, corrosion-resistant, anti-cracking, and other characteristics, pvc coated wire has much longer service life compared with common galvanized tie wire.
Colors can be black, green, white, dark green, dark blue, grey and so on.
Uses: PVC coated tie wire is widely used in the environment where good corrosion resistance is required.