T-post
T post, punched T post and studded t post, popularly used for fittings for mesh fences installation.
T post plastic coated or galvanized:
Surface : green , red or galvanized
Spec. 0.95lbs/feet 1.25lbs/feet 1.33lbs/feet
Length: 6' 6.5' 7' 8' ...........according to requirements
Packing: 10 pieces per bundle , 20 bundles per pallet , or according to customer's requirement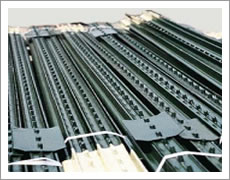 Punched T-post/fence post
Spec. : 0.95lbs /feet 1.25lbs/feet .1.33lbs/feet ....
Each t-post has 18holes , each hole is 3inches apart starting from the top ,the holes' measure is 1/4 of an inch.
The bottom part from each t-pole is free of holes
Length : 6' 7' 8' .......
Packing : 50 pieces per bundle
the bundles per iron pallet
or according to customer's requirements to produce
Studded T post -- with spade / without spade

Material: Billet or Rail.
Spec.: 0.85kgs/ft, 0.95kgs/ft, 1.25kgs/ft, 1.33kgs/ft
Length: 5' ~ 10'
Surface: painted or hot dip galvanized.
Packing: 5pcs per bundle, 200 pcs per pallet of square packing (30CM X 90CM).
we have been supplying to the biggest customer in America for many years, so we can assure you of the good quality and competitive price.
Pls kindly contact us for any interest.