Garden Fences

Garden Fence includes flower border fence and folding fences.

Border Fence is used for separating the flowers in the garden.
We have commonly three styles of flower border fences:
Picket Style
Scroll Top
Flat Top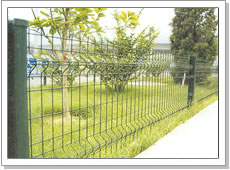 Unique designed with zinc coated steel wire, the border fences make great settings for the gardens.
Wire Materials: Crimped wire, galvanized or hot dipped zinc coated, or pvc coated.
Sizes: Customized.
Folding fence is another kind of popular fences used as garden fences. Two major types: Round folding fence and Gothic folding fence.
We supply beautiful garden fence to protect your garden, at the same time to harmonize with your beautiful garden view.
Varieties:
Welded wire fences;
Woven wire fences;
Plastic coated fences;
Crimped wire fences.
Undulated wire mesh fences.
Wire Diameter can be 1.5 to 2.5mm
Mesh Opening can be 2"x2", 2.5"x2", etc.
Finishes of Garden Fence can be galvanizing or plastic coating.
Width and length of the garden fence can be customized upon requests.